IL APT Annual Conference
JOIN VIRTUALLY OR IN PERSON
Friday, February 9th 2024: Connecting with Parents: Cultural Considerations for Play Therapy Parent Consultations
Saturday, February 10th 2024: Too Cool to Play: Adapting Humanistic Play Therapy to Preadolescents
Times: 8:30 AM – 4:00 PM
Speakers: Peggy L. Ceballos, Ph.D.
Location: Nineteenth Century Charitable Association          178 Forest Ave Oak Park, IL 60301
Day 1 includes: continental breakfast; boxed lunch, and light snacks
Day 2 includes: continental breakfast and light snacks
Play therapy credits are only available for mental health professionals.
Attend both days for a total of 12 Play Therapy CEUs.
This workshop meets APT's definition of "Live Webinar"
Lunch during National Conference
October 14th between 12:30-2pm
Grab your lunch and join IL APT. Get to know your board, learn about your chapter, find out how you can become involved! Watch Facebook, Instagram and the info board at the conference for location details.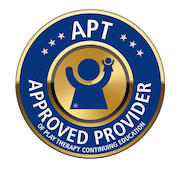 Address
201 E. Ogden Ave, Suite 106, Hinsdale, IL 60521