IL APT Annual Conference
JOIN VIRTUALLY OR IN PERSON
August 4th 2022: Suicide Assessment, Treatment & Prevention: Restoring Hope to Youth in Play Therapy
Participants will learn to assess for suicide risk applying integrated attachment-based play therapy treatment and suicide prevention tools. Participants will explore play-therapy interventions for assessment, treatment and prevention and ways to support the prevention and reduce suicidal behaviors.
August 5th 2022: Spark it up: Playful Approaches for the Treatment of Compassion Fatigue & Burnout for Play Therapist
It's time to SPARK IT UP! Examining key indicators of burnout and compassion fatigue to treat and prevent burnout and compassion fatigue. Ignite the spark of self-care by applying research-based interventions; play therapy and expressive arts, creating effective play therapists.
August 6th 2022: Expressive Therapies in Play Therapy: Integrating Self Expression into Play Therapy
Play Therapy has been shown to be the most effective way to treat mental health issues in youth (Bratton et. Al.) Integrating play into our work with youth requires advanced training in specific areas such as: understanding developmental levels of play, integrating directive versus non-directive strategies, and understanding how to engage youth to explore all areas of themselves and their world. This workshop will explore expressive strategies for understanding and helping youth. This will be a highly interactive and experiential experience for all participants.
Times: 8:30 AM – 4:00 PM
Speakers: Mary Ruth Cross, LMFT, NCC, RPT-S & Leslie Baker LMFT, CGT, NCC, RPT-S
Location: Nineteenth Century Charitable Association          178 Forest Ave Oak Park, IL 60301
  This workshop meets APT's definition of "Live Webinar"
IL APT President: Sam Bunnyfield LCSW, RPT-S
Every 2nd Friday of the month at 11AM
Join us with your warm beverage of choice to connect and meet fellow play therapists.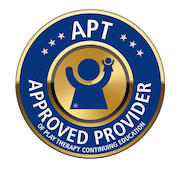 Address
201 E. Ogden Ave, Suite 106, Hinsdale, IL 60521